Kukmin Daily Newsletter
Issue 3
March 17, 2019
Seoul, Korea
Greetings from Seoul!
Despite heavy air pollution that lasted for days at the beginning of March, many citizens, both Christians and others, came out to celebrate the centennial of the March First Movement. In this issue, we've included scenes from the eventful day. There are also excerpts from the articles that our Korean readers liked. The unexpected empty-handed ending of the much-anticipated Hanoi Summit between North Korea and the United States, as well as the serious air pollution, are at the top of our prayer list. We'd like to remind you that our old English news site (
www.kukmindaily.co.kr
) continues to work, although the only update is our newsletter.
Churches Celebrate Centennial of March 1, 1919 Independence Movement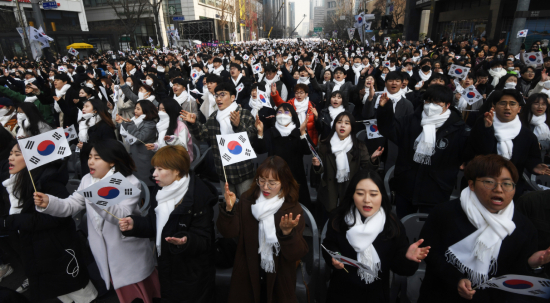 On March 1, 2019, an estimated 20,000 Korean Christians held a "Grand Rally Commemorating the Centennial of the March First Movement" (photo) along the 300-meter stretch from Seoul Plaza to Euljiro 1-ga Station. They recalled the people's suffering under Japanese imperial occupation, gave thanks for God's liberating action in history, and resolved to give stronger support to vulnerable social groups.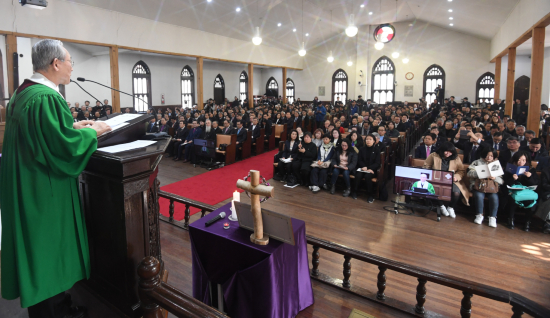 Prior to the rally, the Korea Church Coalition (KCC) and the National Council of Churches in Korea (NCCK) held a memorial worship service at Chungdong First Methodist Church in Seoul (photo above), the place where the list of Christian signers of the Independence Declaration was finalized and the Declaration was distributed to mission school student leaders 100 years ago. Delivering his sermon from the same pulpit used by people's representative Rev. Lee Pil-ju, NCCK Moderator Lee Seong-hui said, "In concord with Wolnam Lee Sang-jae's statement 'We lost our country without fighting, and we will reclaim our country without fighting,' the core of the March First movement was the spirit of nonviolence and peace. Our ancestors in the faith held to this spirit as they braved the guns and swords of the brutal Japanese police… The Korean churches must accept this heritage to restore our Christian identity and live beyond the walls of the church, dedicating ourselves in humble service to society and the world.
Five churches in the Shinchon area of Seoul (Daeshin Methodist Church, Daehyun Presbyterian Church, Shinchon Holiness Church, Shinchon Presbyterian Church, and Changchun Methodist Church) held their annual March 1 joint worship service, a tradition since 1984, at Changchun Methodist Church. Rev. Lee Jeong-ik, elder pastor of Shinchon Holiness Church, said in his sermon, "The March First Movement 100 years ago was a peace movement remarkable in world history. Through its union of Christianity, Cheondogyo, and Buddhism, Koreans expanded their perspective to the world… Beyond simple remembrance, we need to restore the spirit of that time 100 years ago, to cherish and protect our country."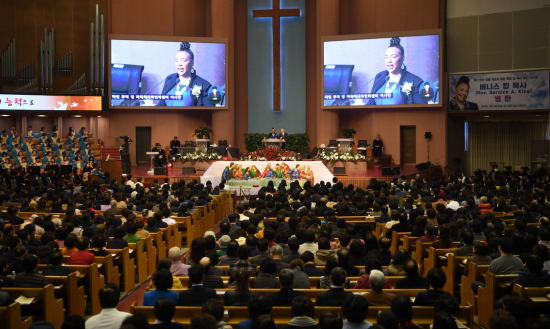 From February 27 to March 6, human rights activist and lawyer Rev. Bernice A. King, youngest daughter of the late Rev. Dr. Martin Luther King, Jr. visited Korea. On February 28 she traveled to the DMZ, where she prayed for peace and reunification of the Korean peninsula. On March 3, preaching at a worship service of Yoido Full Gospel Church (photo above), she said, "We should all live a life of faith with commitment…I hope you will let yourselves be used as instruments of God, to transform this era."
Rediscovering the meaning of community through the May 18 Movement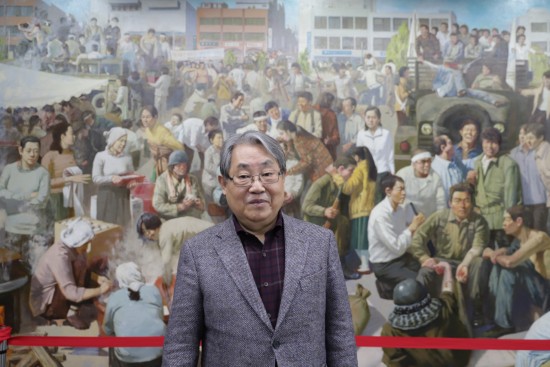 Lee Chul-woo (photo), who chairs the board of the May 18 Memorial Foundation, recently commented on his experience during the Gwangju People's Movement of 1980. He was working for Amnesty International at the time, and after major church figures were taken away by the martial law troops, he was among those who decided to hide and rejoin the struggle after the troops withdrew. His past imprisonment in the 1970s for activities against the Yushin regime made him reluctant to put himself at the front of the Gwangju resistance, but he still feels ashamed of his fear at that time. Ultimately, however, he came out and joined the other citizens. Lee has spent most of his life working in industrial mission, including with foreign migrant workers, up till his retirement last year.
The historic Gwangju People's Movement recently was vilified by extreme-right politicians claiming that 600 North Korean soldiers were involved in the movement; and that some of those recognized as "victims" and "persons of merit" were not qualified for that status. Lee Chul-woo totally dismissed such claims, noting that if North Korean soldiers had come to Gwangju, the banks and markets would have been shut down. Instead, what happened for a very brief time in history was the creation of an "absolute community" through the Gwangju citizens' sharing of food and working efficiently together to treat the wounded.
Kim Gyo-shin's historic Bible Korea magazine restored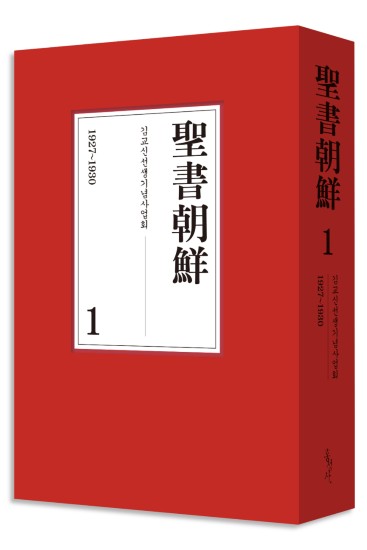 "Bible Korea"(聖書朝鮮), a magazine published by Christian thinker Kim Gyo-shin during the Japanese colonial era, has been restored as a facsimile edition containing the complete set of issues, no. 1~158, in seven volumes, and an index of 4,400 entries as an additional volume. Bible Korea was Kim's project to awaken the Korean people with a historically aware Christian faith based on the Bible. Kim's fourth daughter, Kim Jeong-ok, celebrated the publication, saying, "I am very happy about the re-publication of these magazines, the product of my father's sweat and blood over a period of 15 years. His lifelong belief was that our nation's Christianity must be both Biblical and Korean."
*Related article:
Life and Faith of Kim Gyo-shin (1901∼1945), Christian Thinker During Korea's Dark Period
Church raising up next generation: New Hope Church in Lorton, Virginia
The series "Gift from God, We Love Children" is part of a Kukmin Daily campaign to raise the low birth rate in Korea, now the lowest it has been since 1970, when statistics on it were first recorded. Since its start in August 2018, this series has diagnosed various elements causing the low birth rate, and highlighted some ways churches and local governments can work together. Its final part introduces models that actually work, in Korea and overseas. One church visited by Kukmin Daily was New Hope Church in Lorton, Virginia. Established in 1992 with 29 adults, it now has 1,500 members, 30% of them children. After renting worship space from a public school for 16 years, in 2008 it built its own building and started a preschool to serve the local community. 14 teachers care for 78 children, ages 2~5. The church also offers afterschool programs. Senior Pastor Rusty Coram explained, "Throughout our ministry, we emphasize that children are not a burden but a blessing. All parents, regardless of religion, want a safe place and good quality education for their children. Taking care of our next generation is the best way to help our neighbors build a relationship with the Lord."
NK Human Rights Center report on religions of former North Korean residents
On February 19, the Database Center for North Korean Human Rights (DCNKHR) issued its "2018 White Paper on North Korean Religious Freedom," reporting that four out of ten North Koreans who have resettled in South Korea identify as Protestants. The Center's survey targeted 13,349 persons, among whom 12,589 answered the question about their religion. Protestant Christianity accounted for 41.4% of these (5,218 persons), Buddhists for 10.4% (1,305), and Roman Catholics for 9.7% (1,215). 28.5% (3,588) answered that they had no particular religious affiliation. Where did they first connect with religion? 3,197 persons (34.0%) said "at the protection center for NK defectors" (an investigation facility), 2,833 (30.1%) said "in China," 2,734 (29.1%) replied "at Hanawon" (resettlement centers for North Korean defectors), 468 (5%) named a third country, and 172 (1.8%) said their religious activity began in North Korea. 160 persons (1.2%) had taken part in "secret religious activity" in the North, while 649 (5.0%) said they had witnessed others doing so. DCNKHR researcher Ahn Yeong-min said in the report's preface, "I am thankful for the courage of North Korean defectors who, in spite of concern for the safety of their families back in the North, have spoken out about the religious persecution there. I hope that with increased awareness, the reality will improve."
*Related article:
Protestantism Is Religion of Choice for Largest Number of North Korean Defectors
[New Book] "Who is Christ? Questions of the Age, Answers of Theology"
The book "Who is Christ? Questions of the Age, Answers of Theology," by Prof. Kim Dong-kun of Youngnam Theological University and Seminary, came out of a lecture and group conversation held last November at Kukmin Daily. Kim says that while all Christians are eager to have an encounter with Christ, the crisis of the Korean church is rooted in its "outdated" understanding of who Christ is, caused by chronological and cultural gaps between today's thinking and that of Bible times. He suggests three different types of encounter with Christ, following Barth, Bultmann and Bonhoeffer, but thinks the Bonhoeffer-type encounter best fills the gap between the Biblical Christ of 2,000 years ago, and us today. He says that Christ will exist for "me" and "us" only when the Biblical Christ is also the Christ in our life. He also emphasizes the importance of harmony between the two dimensions of salvation: future and present. He says the tendency to see salvation as "out of this world" and reachable only in the future after death, is a wrong view that needs correction.
박여라 영문에디터 yap@kmib.co.kr