November 15, 2020
Greetings from Seoul!
In this issue we share with our readers some wisdom from a centenarian theologian whose life span extends from the era of Japanese occupation through Korean national liberation and the Korean War, through the rapid development of our country, and finally all the way to this Covid-19 era. We also relate the sorrowful story of Protestants' repeated harmful attacks on a fellow religion in Korea. Let us continue our prayers for God's guidance as we walk through these tough times.
Centenarian Theologian Lee Jang-sik Reflects on 2020: "COVID-19 is the result of society's centering on people instead of God"
What does it mean to live for a whole century? Kukmin Daily met 100-year-old theologian Hyeam Lee Jang-sik (photo), born in Jinhae, Gyeongnam Province in 1921, and listened to his wisdom on human existence and how to live in this COVID-19 era. Lee, who is professor emeritus of Hanshin University, said, "It's like a boat floating on the waves." He compared his life journey to a vast, rough sea of suffering, with the danger of being stranded, but confessed that whenever the sea calmed down, he found God at its center, guiding him to the shore. Rather than "I have lived for a century," he prefers to say "God enabled me to live for a century."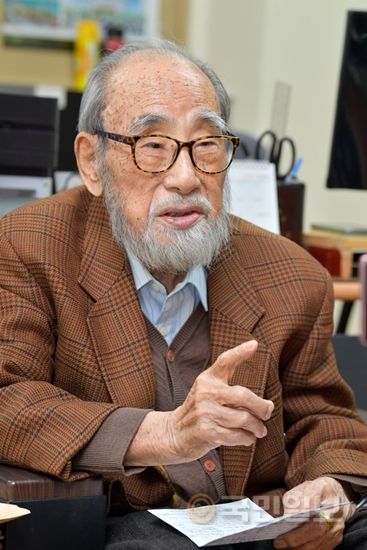 "Looking back, I see that God has been at the center of my life," the elderly theologian said. "But people today have forgotten God. In the year 2020 we live in a society that is centered on people, not God."
Prof. Lee identified the fundamental source of COVID-19 as the loss of reverence for God's Creation. "They say about COVID-19 that as people destroyed nature, they brought disaster upon themselves, and that is true," he said. "Because the creator of heaven and earth is God, the vanishing of reverence for God is correlated with a weakened love for nature." He noted, "Rather than following God's order of creation, people concern themselves with the question 'What should I do in order to eat well, dress well and live well?' and the result is the indiscriminate exploitation of nature… For the present generation to survive, people must depart from all worldly greed."
Prof. Lee also revealed his opinion on this year's issue of excessive political participation by pastors. "Doesn't it ultimately stem from the greed for success, or for prestige?... They are supposed to be servants, but are trying to be masters," he pointed out. The pastor's primary calling is to raise the sheep, he said, but reportedly Korean church members nowadays are not being educated theologically. "When people my age were young, there were adult Sunday school classes. Are there such classes now?" he queried. "If the pastor does not teach, who is going to do it?"
Turning to problems in the area of mission and evangelism, he finds their source also in the lack of theology. "The fundamental purpose of theology lies in mission," he said. "When you have a church, are you content just to have it?... You need to know how to explain what kind of place a church is, what the Bible is, and what kind of person Jesus is. How can you explain these things to others if you don't know how?" He recalled that "During the time of Japanese imperial occupation, we had Bible classes in the daytime and revivals at night. Then at some point the Bible classes vanished and the revivals were all that was left… Only if people are theologically prepared can individual salvation lead to the salvation of society."
Protestant Christians apologize for arson at Buddhist temple Sujinsa
The Committee on Inter-religious Dialogue of the National Council of Churches in Korea (NCCK) issued a statement on November 3 in response to the recent arson incident at Sujinsa, a Buddhist temple in Namyangju city, Gyeonggi-do, saying, "We apologize to Sujinsa, to all Buddhists, and to all the citizens in that area." NCCK declared, "All actions of hate, discrimination or damage to our neighbors' religious symbols, committed simply because their faith is different from ours, must be eradicated."
The statement continued, "The fact the fire at Sujinsa in Namyangju, Gyeonggi-do on October 14 was a deliberate act of arson by a Protestant believer makes us deeply sorrowful… Sujinsa is located at the entrance to Cheonmasan Provincial Park, and is adjacent to an apartment complex, a nursing home for the elderly and other facilities, so this dangerous fire could have caused much worse damage."
"No faith can be used as an excuse to demolish the safety and peaceful life of one's neighbors," NCCK said. "What saddens us even more is that this believer's blind faith caused a total disregard of reality: At the moment her hands set the fire, the nearby social welfare facility and other residential buildings also were thrust into danger."
The statement also clarified that such a criminal act can never be part of a faith that follows Jesus Christ. "Aside from religious differences, to hate, discriminate against, and endanger neighbors with whom we are to coexist peacefully, is not the will of Christ," it said. "Recently in France and various other parts of the world, the self-righteousness and arrogance advanced by exclusionary religions is being expressed in appalling acts of terror due to hatred for neighbors' thinking and faith… There is no world peace without inter-religious peace."
NCCK added, "Based on the fact that most incidents of arson and other damage committed against religious symbols are being carried out by Protestant believers, we must share the pain and repent together over the extreme degradation that now affects the Korean Protestant church."
Since the past, there have been repeated cases of arson by Protestant church members. In January 2016 a man in his sixties who called himself a Protestant Christian intruded into a Catholic cathedral and a Buddhist temple in Gimcheon, North Gyeongsang-do and damaged a statue of the Virgin Mary, a statue of Buddha, and other items. Earlier, in June 1998, another self-proclaimed Protestant destroyed all of the 750-some Buddhist statues in the main building of Wonmyeong Seonwon in Jeju-do.
On November 2 the Religion and Peace Committee of the Jogye Order of Korean Buddhism issued a statement related to the arson incident, calling on the Protestant church to "Be reborn as a religion of harmony, rather than a religion that spreads violence and arson."
박여라 영문에디터 yap@kmib.co.kr
GoodNews paper ⓒ
국민일보(www.kmib.co.kr)
, 무단전재 및 수집, 재배포금지