December 15, 2020
Advent greetings from Seoul!
We've seen many developments, both good and bad, related to COVID-19 these past few weeks. Some countries are beginning to provide vaccinations, while all of us are troubled by drastic increases in the numbers of confirmed cases. This issue of our newsletter reports on research that has produced an index helping us to better understand those who have left North Korea and ultimately settled in the South. We also have a story about a small movie festival that brings together Christians and non-Christians. There's almost nowhere we can go these days, so how about enjoying these films at home?
"North Korean emigrants gradually overcome culture shock and gain new ethical awareness"
Christian agencies supporting Korean reunification research have held a seminar to deepen understanding of North Korean emigrants "just as they are." These emigrants have risked their lives in crossing the border and have experienced various cultural shocks in the process. The seminar emphasized the need to respect the emigrants' complex value systems, formed through their experiences of life in the North, then in another country, and finally in South Korea, and the need for an empathetic ethical awareness that supports their coexistence in the South.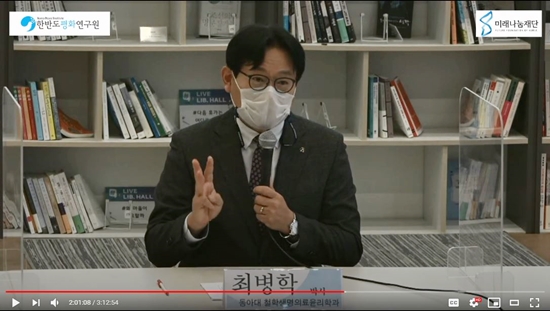 On December 1, Korea Peace Institute and Future Foundation of Korea held a special joint forum titled "Cross-border Ethics: Shared Traits Among Former North Korean Residents." According to the analysis of Rev. Dr. Choi Byeong-hak (above), the 30,000 some persons who have defected from the North and now reside in the South show three multi-layered propensities. "The former North Koreans are heterogeneous by way of their origin in the hostile Northern half of the divided peninsula, but at the same time are culturally homogeneous residents of South Korea; and while their escape from the North Korean political system was involuntary, their will to enjoy a fuller life in the South is a voluntary trait," Choi explained. "They are endowed with rights as citizens under the Constitution of the Republic of Korea, but still face threats due to the ongoing North-South confrontation; in South Korea they are a social minority, and are economically vulnerable."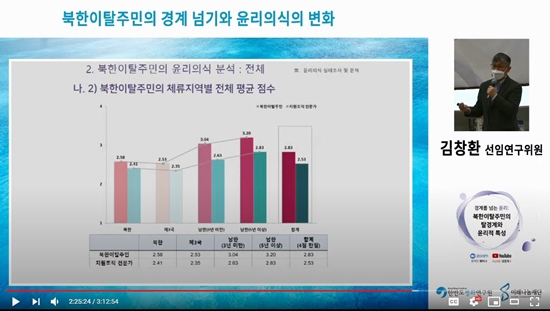 Senior researcher Kim Chang-hwan (above) of the Korean Educational Development Institute divided former North Koreans into four categories. He has developed an index to gauge ethical awareness at the successive stages of: initial separation after residence in the North, sojourn in another country such as China, residence in South Korea for less than three years, and settlement in the South after more than five years. According to the index, ethical awareness is lowest during stays in third countries, where the emigrants are exposed to various dangers, and highest when they have become settled in the South after five years or more. "South Koreans need to understand former North Koreans' cross-border character and complex value system, and relate to them with an open-minded, inclusive attitude," Kim said.
Korea Peace Institute, an organization based on the Christian faith, has a 91-member core of scholars doing active research toward the vision of peace and unification on the Korean peninsula. Future Foundation of Korea is in its eleventh year of scholarship support activities, carrying out the wish of late Green Cross president Huh Young-sup to assist North Koreans living in the South.
Online Christian Film Festival for Everyone: "It's not all right"
The "Christian Film Festival For Everyone (CFFFE, http://cfffe.org)," an event enjoyed by Christians and non-Christians together, was held online this year due to the COVID-19 pandemic. Kukmin Daily recently met actor Kang Shin-il (right in photo below), the Christian elder who is the festival's executive chairperson, and film critic Choi Eun (left), who is vice-executive chairperson and senior programmer for the festival, at Big Puzzle Creative Community in Mapo-gu, Seoul.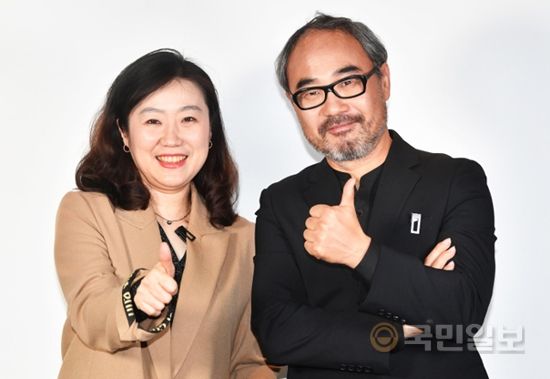 CFFFE first opened last year, with the catchphrase "Instead of hate, design; instead of exclusion, festival." Though it is a film festival made by Christians, the screened works are not limited to Christian films. The purpose is to bring together Christians and non-Christians for self-reflection, by creating a festival "for all." "Just as God excludes no one and loves everyone, the Christian faith also must be directed at everyone," Elder Kang said. "That is why I am glad to participate in CFFFE, which goes up close and listens to various voices in order to discover the role of Christianity."
This year's theme is "It's not all right." "With the worsening of COVID-19, added to the other anxieties and uncertainties of this era, we wanted to prepare a space where people living today could confess that they are not all right, and understand and comfort each other," Choi explained. "From the social spirituality perspective, we saw this as an opportunity to understand how society makes individuals 'not all right.'"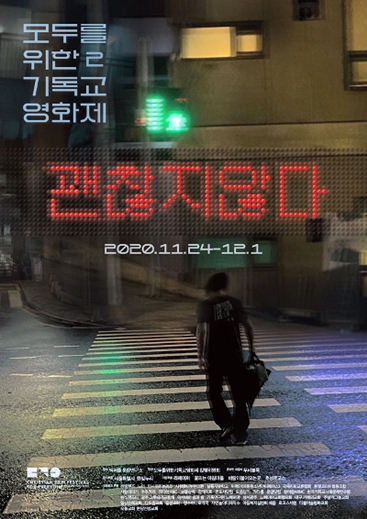 The film festival presented eight feature films revealing 'not all right' slices of life from different parts of the world, including India's "Where is Pinki?" (2020) and Korea's "An Old Lady (69 Years Old)" (2020)." Elder Kang said the festival was an opportunity for self-reflection by Protestant Christians, now the target of public criticism due to irresponsible activities during the COVID-19 crisis. "We must draw the line: Tell the groups that commit wrongful actions in the name of Christianity, 'It's not all right,' and tear down the exclusionary fence that we ourselves have erected," she said. "I hope CFFFE can be a stepping stone toward realizing a society where Protestant Christianity recovers its original character and Jesus' spirit flows naturally."
박여라 영문에디터 yap@kmib.co.kr
GoodNews paper ⓒ
국민일보(www.kmib.co.kr)
, 무단전재 및 수집, 재배포금지