December 30, 2020
Greetings from Seoul! This year's Christmas was unlike any previous one, due to the pandemic. Here in Korea, with unprecedented numbers of confirmed coronavirus cases, the Disease Control and Prevention Agency has strengthened the level of social distancing during the holiday season. Thus our Christmas celebrations were small and very quiet.
This newsletter carries the story of a 62-year old urban industrial mission that is helping laborers in new ways. It also introduces a scientist who has authored a book describing his encounter with God through his research work.
Looking back on this year, we seem to have prayed harder than ever before for God's guidance. Though the future does not look bright, let us try to use the wisdom we've learned in 2020 to transcend our difficulties and make 2021 a better time.
Soul-care for the suffering, as employment crisis worsens
"Good news to the poor, freedom to the oppressed" (Luke 4:18)
These words from the book of Isaiah, which Jesus proclaimed in a synagogue on the Sabbath, following his return from temptation in the wilderness, are carved on a large stone in the front yard of Yeongdeungpo Urban Industrial Mission. YDP-UIM, founded in 1958, has never let go of the laborers' hands, even under the harsh oppression of the dictatorship. Now, amid the COVID-19 disaster, the mission is working as hard as ever, quietly reaching out to those whose lives are collapsing due to the worsening economic crisis.
"In the past, we concentrated on labor education and organizing, the '8-hour work day,' and other needs of workers in hardship, but today it's important also to care for workers' minds and souls. We provide counseling for those who have been fired or put on unpaid leave, or who are struggling in unstable job situations due to COVID-19. We have talked with employees of Eastar Jet where more than 600 workers received layoff notices, and workers at an aircraft cabin-cleaning company related to Asiana Airlines, and we stand together with laborers from Coupang's Bucheon logistics center, who have suffered direct damage from the COVID-19 pandemic, helping them along their way to psychological recovery."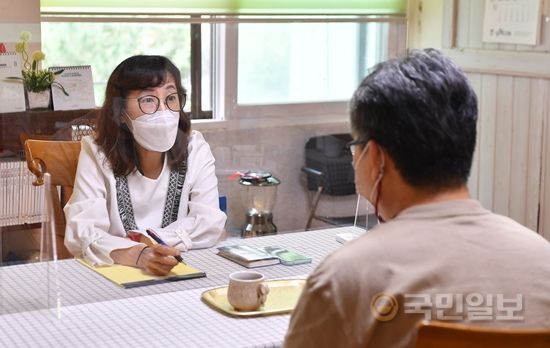 "This is a part of YDP-UIM's healing counseling work," explained Hong Yun-gyeong (left in photo, during a counseling session), director of the YDP-UIM workers' mission department. Hong, who also directs the Shim (Rest) Healing Center, a professional counseling agency of YDP-UIM, works together with about a dozen counselors to support workers who come to them with psychological problems. Till recently they were holding face-to-face counseling sessions on opposite sides of a transparent divider, in a 2nd-floor room of the mission building, but in accord with strengthened distancing requirements, the counseling now takes place online via Zoom or another platform. Speaking to those who feel driven to the extreme, Hong advises, "It's important first of all to care for yourself."
YDP-UIM not only provides counseling but also encourages the workers' growth in self-reliance, by promoting a diversity of cooperative societies. The struggling workers are supported in their faith life by Seongmunbak (Outside the Gate) Church, formerly a part of YDP-UIM.
"Biological research puts me in ever more awe of the Creator Lord"
"Science does not speak for atheism, but is a value-neutral tool. I think it is wrong to consider science 'the devil's temptation,' because that view undermines the established meaning of the Bible, God's Word."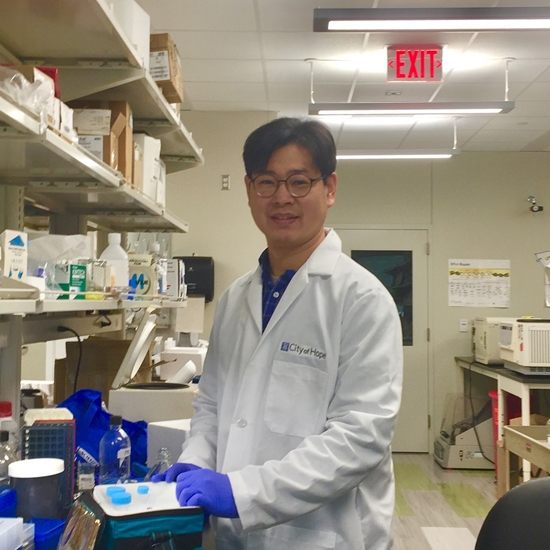 This perspective was shared by Dr. Kim Yeong-ung (photo), who studies blood cancer at the research institute of City of Hope Hospital in California. Presently working from his home in the USA, he recently authored a collection of essays titled "A Scientist's Study of Faith" (Seonyul, publisher). His book describes his discovery of God's divine providence and grace in the process of his biological research on microenvironment, insulin and other topics. On December 4, Dr. Kim was interviewed by Kukmin Daily via email.
Kim's faith life began at age 10, and he was a model "elder brother" in his church. He attended a prestigious university, got his Ph.D., and triumphantly entered Cleveland Clinic, one of the four top hospitals in the USA, believing that he was walking the "solid road of faith." He was granted a scholarship, and his advisor was a famous professor whose papers appeared in the academic journal 'Nature' and who lectured in countries around the world.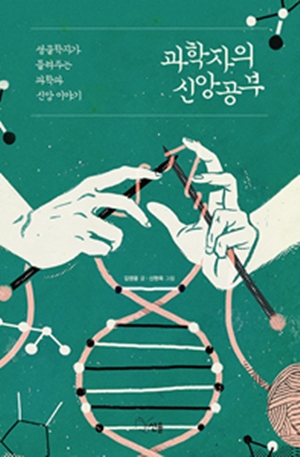 When he was on the verge of success, a problem arose: he discovered a critical flaw in his advisor's paper. After much inner conflict, he left Cleveland Clinic, then spent some time at the Indiana University School of Medicine, and in 2016 arrived at his present research institute. In the process Dr. Kim began to reflect on his faith. "As I went through that difficult time, I realized that I really wanted to know God. I started examining theology, bit by bit. I read more than 100 books in the areas of theology and spirituality."
What he discovered, looking back at his faith, was that "science and knowledge are God's gifts to us, and they can be in harmony." He explained, "Science, rationality and reason reveal the secrets and mysteries of God's Creation, the world created by God. From this perspective, the anti-science attitude is not proper for a Christian who confesses belief in God as Creator Lord." Dr. Kim hopes that more people will utilize reason and logic, granted by God to humans alone, to continuously deepen their understanding of God. "Up to now, while making new discoveries, I have never once considered God's Creation to be a fabrication or a lie. On the contrary, I have become a worshipper kneeling down in ever greater wonder at God's Creation. I hope that not just biology but various other arenas also will produce abundant stories revealing the mysteries of God's Creation."
박여라 영문에디터 yap@kmib.co.kr
GoodNews paper ⓒ
국민일보(www.kmib.co.kr)
, 무단전재 및 수집, 재배포금지