January 12, 2020
New Year's greetings from Seoul!
This winter is long and harsh for us in the Northern Hemisphere as we fight against an unmerciful wave of COVID-19. The spectrum of Korean churches' virus-prevention practices is broad and sometimes even puzzling. While some churches have been criticized for violating - in the name of religious freedom - the government's regulations to prevent the spread of the virus, many churches are offering their facilities for use in quarantining, are mobilizing blood donations, or providing needed resources. It is a challenge for small local churches to comply with the "no-contact" regulations, in their weak financial state. But many cases of mass infection have stemmed from church-related gatherings, so this problem must be tackled by the church as a whole.
This newsletter reports the results of a survey of Korean Christian opinions on current funeral practices. Our second story deals with the problem of lower application rates to M.Div. programs, possibly leading to a future shortage of ministers. We think this concern is probably shared by churches in other regions of the world as well.
Survey reveals Protestants' wish for better funeral culture
On December 23, the family ministry organization Hifamily announced the results of a "Survey of Christians' Perceptions Related to the Funeral Culture." The survey, done jointly with Memento Mori Christian Citizens' Solidarity, an organization that promotes Protestant Christian funeral culture, was carried out on December 7~21 and targeted 1,259 Christian respondents nationwide. It was conducted online, with participants entering their responses directly.
Hifamily Co-representative Song Gil-won commented, "During this COVID-19 pandemic, weddings and funerals have become simplified, but even though a wedding can be postponed, a funeral cannot… Through this opinion survey, we reflected on 'good death' and confirmed that many persons would like to build a Christian funeral culture."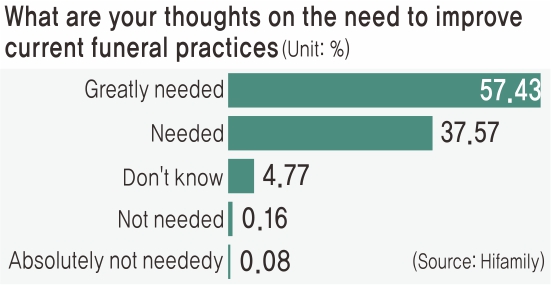 The question "Does the current funeral culture need improvement?" was answered positively by an overwhelming 95% of respondents. As for what needs to be improved first, they named excessive funeral costs, meaningless funeral procedures and empty formalities, in that order.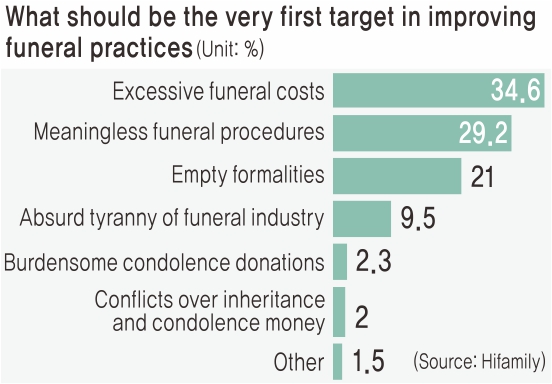 When asked "Is there a need to prepare in advance for one's funeral?" more than 90% of respondents recognized this as a need. Asked about their interest in receiving help from an "ending planner" if that was available, 56.2% said they "want to receive such help," and 23.5% said they "definitely want such help." In particular, they wanted help in the areas of planning for death (41.8%), funeral procedures (22.5%), and medical needs such as hospice care (19.1%).
Student shortage at graduate schools of theology puts pastoral supply at risk
There has been a sharp decline in the rate of competition for entry to Master of Divinity (M.Div.) programs, which formerly were so competitive that their entry exam was even called "theological bar exam." When entrance exams were held for the 2021 school year, the numbers of applicants for general screening at graduate schools of theology around the country fell far short of the needed quotas, except at some schools in the Seoul Metropolitan area.
Acceptance into the M.Div. course, an absolutely necessary educational requirement for ordination as a minister, was so highly competitive in the past, that until the middle of 2000, many "longevity" applicants took the exam three or four times in the attempt to enter famous theological schools in Seoul. In 2021, results of general screening at some schools show a surplus of applicants, at rates of 2.41 to 1 for Presbyterian University and Theological Seminary, 1.44 to 1 for Chongshin University, and 1.20 to 1 for Hapdong Theological Seminary. However, at other schools including Seoul Theological University (0.54 to 1), Korea Baptist Theological University and Seminary (0.53 to 1), Hanshin University (0.43 to 1), Sungkyul University (0.40 to 1) and Asia United Theological University (0.28 to 1), there is a shortage, making extra recruitment unavoidable.
This fall in competitiveness may lead to a reduced supply of qualified pastors. There is great concern that churches and congregations will then be saddled with the resultant burdens and damages.
As a solution, Rev. Park Ung-seop (Heaven Church), a former head of the theological education department at the General Assembly of the Presbyterian Church of Korea (PCK Tonghap), has proposed the robust structural adjustment of graduate schools of theology and the setting up of a system to discover and support theology students. "The large denominations, including PCK Tonghap, PCK Hapdong and the Korean Methodist Church, which operate denominational graduate schools of theology, should first of all unite their own schools, greatly reducing the number of institutions and student quotas," he said. "Then the churches should track down good pastoral candidates, and the presbyteries and general assemblies should support their education costs, with this new structure functioning as a virtuous circle for the cultivation of leaders, thereby resolving the present chaotic situation."
In 2016, under Rev. Park's leadership of the PCK Tonghap theological department, a bill was passed to reduce student quotas at the denomination's seven graduate-level theological schools. Over the next three years, starting in 2017, PCK Tonghap reduced student quotas at its graduate schools of theology by 4% annually. "We need to recognize this as our last chance to turn crisis into opportunity, and carry out robust structural adjustment," Park said. "Only then will the way be opened for the churches to survive."
박여라 영문에디터 yap@kmib.co.kr
GoodNews paper ⓒ
국민일보(www.kmib.co.kr)
, 무단전재 및 수집, 재배포금지