January 28, 2021
Greetings from Seoul!
This newsletter reports on the rapid increase in the number of single-person households in Korea, and on changes the churches should make in their ministry in response to the new reality. The second story relates the main points from a discussion series on the results of a survey done in July last year, on changes in Korean Christians' perspectives.
Here in South Korea, we have been striving as a nation to contain the spread of COVID-19, and our methods have been comparatively successful. As believers, however, it has been painful to witness new breakouts of infection among Protestant church-related groups, just when we were sighing in relief at the downward curve in cases. Throughout this pandemic, we continue to seek God's will.
Era of 9 million single-person households: Time to broaden "family" concept in ministry
According to the report on "Resident Registration Demographics" issued by the Ministry of Interior and Safety on January 3, the total number of single-person households as of the end of last year has reached 9,063,362, an increase of 574,741 (6.77%) over the previous year. It is the first time that single-person households have passed the 9 million mark. One-person households are also the dominant category among households, accounting for 39.2% of the total. On the other hand, the proportion of households with four or more members has fallen, from 25.1% in 2016 to 20.0% in 2020.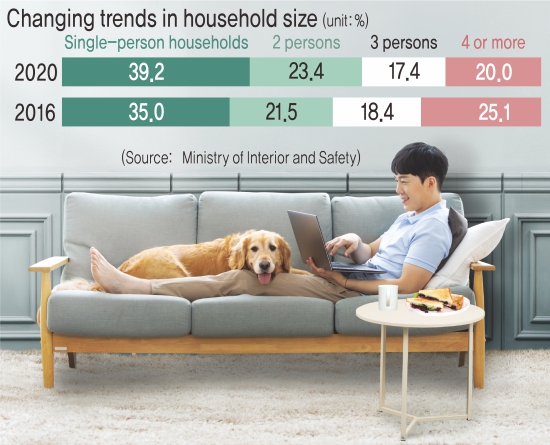 Rev. Lee Sang-gap (Sanbon Presbyterian Church), director of the Institute for Young Adult Ministry, said on January 5, "In line with changes in the traditional concept of family, churches also need to embrace a different perspective, so that single-person households may achieve a balanced faith and life."
Church ministry experts are pointing to the need for changes in existing forms of ministry and church culture. The most urgent task is to transform perceptions among the churches' constituent members.
Ji Yong-geun, director of the Ministry Data Institute, explained, "Many churches recognize the necessity of personalized ministry for single-person households, but they haven't been able to put this into action… That is because elders, ordained deacons and others who hold decision-making power in the churches are the established generation, and their thinking has not changed." Director Ji suggested that churches join with outside experts in listening to stories from the changed world.
Rev. Lee said, "In order for persons living alone to enjoy an upright church life, we must respect and encourage their true character and life… In particular, we need to change the tendency of looking askance at unmarried young people, while not showing them concern or care." He added, "In preaching to our congregations, as well, we should give special consideration to single-person households."
Proposals also have been made for structural changes in the church. Though there are differences among denominations and churches, some have regulations allowing only married persons to hold official positions, or state that an unmarried person cannot become an ordained deacon. Thus, in churches' inner decision-making processes, one-person households are left out and alienated.
"We should create a community for one-person households, just as we do for newlywed couples," Rev. Lee advised. "We may use the method of tailored training to cultivate a sense of strong faith and belonging." He pointed out the need for ministers whose special charge is single-person households. "Many households have a single young adult resident, but there also are many with single residents aged 65 or older… We must cultivate ministers who understand and embrace their situations and circumstances."
It is also anticipated that ministry to one-person households will lead to positive effects in other forms of social welfare. "Persons living by themselves have higher levels of depression and loneliness," Director Ji noted. "If we draw them into church ministry, these problems can be solved naturally and they can find more contentment in life." He added, "Ministers should engage in more dialogue and counseling… They should try to confirm directly what kinds of joys, sorrows and difficulties their church members are experiencing."
Conservatism grows among Protestant Christians in COVID-19 era
On January 11, as part of a series of discussions aired on YouTube, the National Council of Churches in Korea (NCCK), together with Christian Academy, examined the results of a nationwide online panel survey conducted last July by the Christian Institute for the Study of Justice and Development (CISJD) with the assistance of JI&COM Research, targeting 1,000 Protestant Christian church members aged 19 or older (See
CISJD survey: Most Protestants see online worship as acceptable but inadequate
). The discussion participants analyzed the findings and considered future prospects.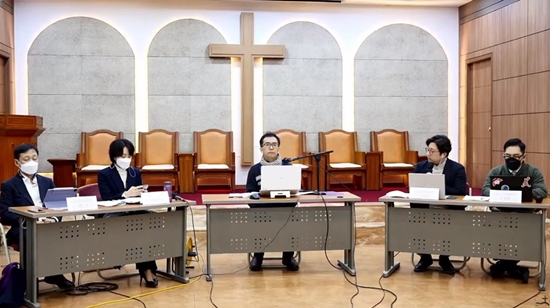 In the survey, 28.8% of the respondents identified themselves as conservative, 31.4% as progressive, and 39.8% as moderate. Compared with a similar survey done in 2019, this one showed an increase of conservatives by 7.4%, while on the other hand both moderates and progressives showed reductions, of 6.8% and 0.6% respectively. The discussants noted that the social anxiety aroused by COVID-19 has stirred the conservative inclination to seek stability.
Categorizing the results by age group, Protestants in their 40s with a progressive inclination (40.4%) were nearly twice as numerous as their conservative age-mates (21.5%).
On the contrary, among those aged 60 or older, the conservatively inclined (43.0%) were more than double the number of progressives in this group (21.3%). Particularly worth noting was that, aside from the oldest group, respondents in their 20s showed the second highest rate of conservatism (22.3%). In the 2019 survey, the 20s group's conservative response was a mere 12.7%, but during the past one year, nearly 10% of this group have moved from progressive to conservative.
Korea Christian Academy Director Lee Sang-cheol (center in photo above), in his analysis of changed political perspectives among Korean Protestant churches, explained, "On the way through COVID-19, nationalism has grown stronger. The conflict between communitarianism and individualism has sharpened, and ultimately has led to a political philosophical conflict over the question 'solidarity or blockade?'"
Korean Protestants' community awareness is very high, but the analysts noted that in solving problems, they place more importance on individual effort than on social structural solutions. Shin Ik-sang, a research professor at SungKongHoe University, said, "When asked about the cause of poverty, 45.2% attributed it to individual responsibility, and 35.2% said it is the responsibility of society… The higher the respondent's age, monthly household income, or position in the church, and among more regular than irregular employees, the higher was the rate of those who prioritize individual responsibility." The discussion participants concurred on the need for research to discover why this "individual" mindset persists in the Korean Protestant churches.
박여라 영문에디터 yap@kmib.co.kr
GoodNews paper ⓒ
국민일보(www.kmib.co.kr)
, 무단전재 및 수집, 재배포금지