February 9, 2021
Greetings from Seoul!
Featured in this newsletter are two contrasting stories, one about the lasting bond between a benefactor and a beneficiary, and the other revealing a contradiction between what we Christians are taught and our reality.
This week in Korea we will celebrate our traditional Lunar New Year's holidays, the most important family gathering time of the year. The entire country, however, is still under strong anti-coronavirus measures including a ban on any gathering of more than four people unless they reside in the same household. Compared to the Chuseok holidays last fall, when the measures did not limit the size of gatherings, these holidays will produce new scenes as people devise ways to meet in smaller groups.
Rejected by churches, differently abled seminarian quits theology grad school
Seminarian Yu Jin-u (photo) submitted his school drop-out notice this past December, just two weeks before the end of his third semester at the Hanshin University Graduate School of Theology. He had wanted to walk the way of a pastor, but no church was willing to hire someone with brain lesion disorder. He wrote in the notice, "What I have felt since entering graduate school is that I cannot become a pastor… Whether this is due to the system, or to implicit consent, I have become skeptical and can no longer study theology. I want to drop out."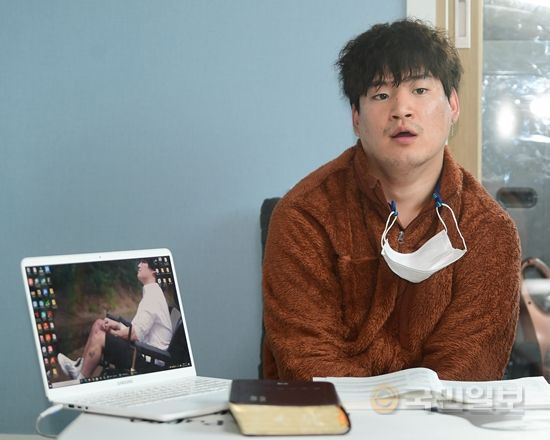 Since elementary school, Yu had dreamed of becoming a pastor. He wanted to be a pastor like Jesus, reaching out to lonely and marginalized persons. He thought of his disorder as a strength, not a weakness, because it enabled him to empathize better with such persons.
But reality was different from what he'd hoped. In 2019, his first year of grad school, he applied to 12 churches that supported the post of mission worker, a work experience required by the pastoral practicum course, but they all replied that they could not work with him. Six of the 12 referred to Yu's "handicap" as the reason for rejecting him. He requested his professors for introductions to churches where he might do ministry, but was told only, "Please wait," and nothing changed.
When Yu expressed his wish to drop out, his professors united in trying to change his mind, saying, "If the Korean church is to change, it needs you," and "Your very presence in the church is strength." But Yu was unmoved.
In the background of Yu's admission to Hanshin University is the fact that it belongs to the Presbyterian Church in the Republic of Korea (PROK), which is said to place more importance on human rights than do other Protestant denominations, but even the PROK churches did not open their doors to him. Even if he did an alternative, itinerant pastoral practicum, going from church to church, completed his coursework and graduated, he doubted whether he could get all the way through the pastoral training course involving two years as a mission worker, and the pastoral exam. "Even if I were ordained, would there actually be any place for my ministry? Today that looks remote," he said a little bitterly.
"The reality now is that a differently abled seminarian who wants to be a pastor must rely on someone's good faith," Yu said. "Discrimination is happening in the very place where it must not happen." He said, "Among the many who dream of becoming pastors, there are differently abled persons… I hope schools and denominations will not forget them, and will prepare systems and environments allowing these differently abled seminarians to nurture their pastoral dreams."
From child beneficiary to head of support organization… "God's miracle"
New Korea World Vision President Cho Myeong-hwan (photo), elected on January 19 following last year's open recruitment process, was supported in childhood by an international relief organization. For 45 years, he received special love from one donor. From the time of his birth, he was supported by an American, Edna Nelsen, with a monthly donation of 15 dollars and her steadfast prayers for him. Cho's support from the relief organization ended when he turned 18, but even when he was an adult and had obtained the post of university professor, Mother Edna continued without fail to send the monthly 15 dollars, along with her letter.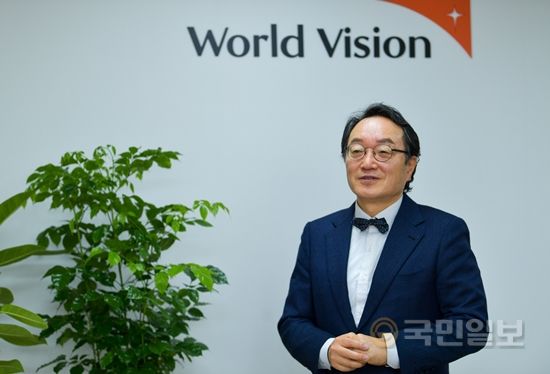 Cho recalled that in each letter, Mother Edna inquired about his dream. In closing, she always wrote, "God loves you. You must trust in God's love. I will pray for you." Her letters continued until 2001, when she passed away at the age of 104.
As a student in the U.S., Cho had wished to meet Mother Edna, and had requested a meeting with her at least three times, but she refused, saying, "The work of the right hand should not be known by the left hand." In 1996, then back in Korea, he suddenly decided to visit Mother Edna's home in the village of Nebraska, North Carolina. She was nearing 100 years of age, and if he didn't see her now, he thought, it might be too late. The week he then spent with her, their first and last meeting, was a time he can never forget.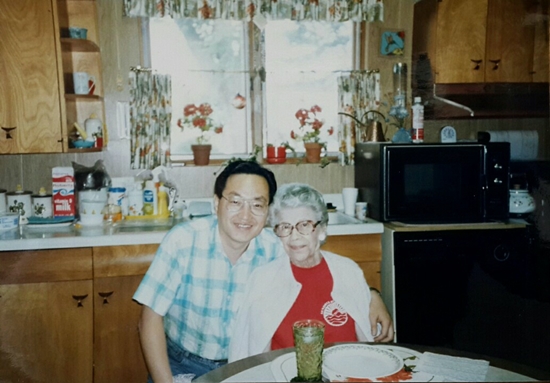 "No matter how I pondered it, I couldn't understand why she gave me this kind of love, when I was not her child, her relative or her neighbor, but a stranger from a faraway country. Referring to Ephesians chapter 2, verse 10, she said she wanted to repay in some way the blessing of God's unconditional salvation."
President Cho stressed the need to prioritize help for children whose suffering is intensified by the COVID-19 situation. "Mother Edna was an ordinary person: She never rode in an airplane, and her last job was working at a convenience store. She showed me that even if you are not rich, you can help someone. Christians should go beyond caring for our own children, and help alleviate the suffering of God's children around the world."
박여라 영문에디터 yap@kmib.co.kr
GoodNews paper ⓒ
국민일보(www.kmib.co.kr)
, 무단전재 및 수집, 재배포금지