February 22, 2021
Greetings from Seoul, with wishes for a blessed Lent!
This newsletter carries the story of an Iranian refugee family in Korea. Their journey for freedom of religion has been rough, aside from the pandemic. Experiencing the Lent season amidst the pandemic for the second consecutive year, we are reminded of our heartfelt wish last year to join face to face in Easter worship at church, if the virus had been contained soon enough. Little did we know… This family faces many challenges in their daily life as refugees, including the pandemic restrictions. We invite you to read their story and pray for them and others seeking refuge in foreign countries.
Here in Korea the vaccinations against Covid-19 are starting this week. The national goal is to finish the process before the next influenza vaccination season begins. Stay safe, everyone!
Nazem Afshin family in Korea for their faith: "Our dream is to live an ordinary life"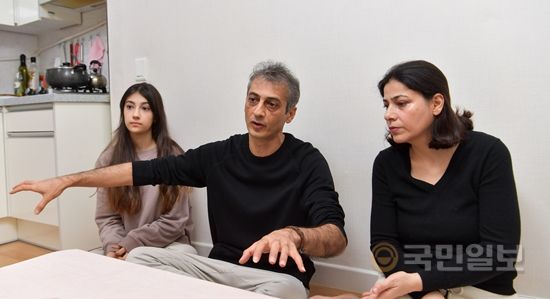 He worked without rest at a meat-packing plant from the middle of last month, for 17 days, 11 hours a day, till his hands were puffy and swollen. It was a job he'd barely managed to get, thanks to the cascade of orders for meat gift sets ahead of the Lunar New Year. He was thankful for the pay he received, although it was small compared to the exhausting labor. But recently the meat-packing plant told him not to come to work any longer.
Nazem Afshin, along with his wife Sonia and their daughter Saina, left their home country of Iran in 2011. They came to South Korea in September 2019, following a sojourn in Malaysia, and after one month were granted refugee status and given visas for long-term stay.
This Seol (Korean Lunar New Year) was the first one that the family was able to spend in freedom. Last year they were restricted to the refugee support center, not permitted to leave the premises. In June last year, Afshin's family received government support enabling them to move to a small house. Are they happy now, at their second Seol?
On February 7, when Kukmin Daily asked this question during a visit to their home in Bucheon, Gyeonggi-do, their first response was tears. 18-year-old Saina could still not go to school. Afshin had not yet been able to find employment. Most of the money he had saved from his work in Malaysia was used up. He was even wondering whether it would have been better to stay in Iran. There, Afshin had worked as a sound designer for movies and documentaries, and Sonia had been employed as an accountant at a large construction company.
They abandoned their affluent life in Iran for one reason. They wanted to attend church freely. Afshin had become Christian through his father, who introduced Christianity to the family after being baptized during a visit to Afshin's younger sister in England. Afshin was 25 at the time. As he worshipped together with his family, he entered the life of Christian faith.
The decision to go into exile was made following Iran's June 2009 presidential election. There were suspicions of election fraud, against which Afshin spearheaded a protest demonstration. The Iranian secret police put him under surveillance. His freedom of religion also vanished. "I thought my fatherland was no longer safe. More than anything, I wanted to give my daughter freedom of religion. She had to read the Koran, starting at age 4 in kindergarten."
In 2011 they went to Malaysia, where Afshin's younger brother lived. For the next eight years they saved up their money, giving up many things they wanted to eat or to have. They worked and endured, so as to move to a country with a better future. They requested the United Nations High Commissioner for Refugees to find them shelter in a place that would accept them as refugees, and received word that Korea had agreed to do so.
"We had not given any thought to Korea, because of the language barrier. We wanted to go to an English-speaking country, but we could not refuse Korea. People at the UNHCR told us that if we refused the Korean offer, our application for refugee status could be delayed 5~10 years, or even cancelled."
They stepped onto Korean land in September 2019, when their plane landed at Incheon International Airport. During their six-month stay at the refugee support center, they came face to face with practical problems. According to the Refugee Act, Saina could go to an ordinary local school, but this was no use to her because she did not know a single word of Korean. They did not have the money needed for an international school.
To receive permanent residence status was difficult in reality. According to the Justice Ministry, a foreigner who wants to be granted permanent resident status must have a certain amount of money or be working at a secure job. But when Afshin went to the bank, he was told he could not open an account because he was Iranian. He could not understand the exact reason. He could only guess that he was refused because Iran has been placed under US economic sanctions. Without a bank account, he could not get a job, and could not earn money.
Sources at the Foreign Ministry and Justice Ministry explained, "The government has not ordered the banks to refuse accounts to Iranian citizens. The bank seems to have acted on its own."
"I was very angry at the UN and the Korean government, but decided to leave the situation in the hands of all-knowing God," Afshin said. "I am putting my trust in God's greater plan and continuing to pray." What he and his family hope for is simple: to live an ordinary everyday life.
"I want to earn money to support my family's existence, and any kind of work is fine. I hope the opportunity comes for my daughter, a high school student, to attend classes. I believe in God as One who creates a path for us and leads us."
Report on Iranian refugee family elicits "deluge of love" from churches
After we published this story of Nazem Afshin's family and their hard life as refugees in Korea following their departure from Iran in search of religious freedom, Kukmin Daily received many email messages and phone calls from persons expressing the wish to help them.
In particular, Seoul Gwangyeom (Light and Salt) Church (Rev. Jo Hyeon-sam) extended helping hands through its evangelist, who is from Pakistan. Rev. Kim Min-seok of Seonbujunim Church, which does multicultural ministry in Ansan, Gyeonggi-do, an area with many foreign workers, said he empathizes with Afshin's suffering and hopes to help him.
Rev. Choi Tae-sik of Jeonju Onsarang Church said, "It looks as though the Korean church has not been doing its proper work… The churches must help foreigners such as the Afshin family who come to Korea for reasons of faith."
Afshin also conveyed his gratitude. "It seems that God has prepared a way for us, for which we are thankful… God has sent good people to help us."
박여라 영문에디터 yap@kmib.co.kr
GoodNews paper ⓒ
국민일보(www.kmib.co.kr)
, 무단전재 및 수집, 재배포금지