March 23, 2021
Greetings from Seoul!
In this issue we report on a new development at Chongshin University, which belongs to PCK Hapdong, the largest Protestant denomination in Korea. We also tell the story of a pastor who has created a botanical garden filled with Biblical plants and scenes.
This week we are praying especially for those who have lost family members, friends and neighbors in mass shootings. May our diverse skin colors be an invitation to peace, not hatred, among our brothers and sisters, through deeper understanding of God's all-inclusive love.
"No women"… PCK Hapdong stubbornness puts non-Hapdong members on Chongshin University Board
There's a lot of talk about the inclusion of three women among the recently appointed directors of the Chongshin University Foundation Board. Sounds of grumbling are emanating from Presbyterian Church of Korea (PCK) Hapdong, the denomination to which Chongshin University belongs. PCK Hapdong says the Private Universities Dispute Mediation Committee (DMC) has ignored the denomination's doctrines and statutes.
On February 22 this year, from among 30 candidates, the DMC chose 15 as regular directors of the Chongshin Board. Among them were three figures recommended by the Ministry of Education, all of whom were women from other denominations. According to the Chongshin University statutes, only "pastors or elders grounded in Biblical and Reformed theology" can be Board directors. Since this denomination characteristically does not accept women pastors or women elders, the appointment of women to the Chongshin Board is unprecedented.
If nothing untoward happens, the Ministry of Education is expected to approve the DMC's appointments. Although PCK Hapdong says it will send a letter of protest to the Education Ministry, overturning the decision will be difficult. These days, voices of regret can be heard here and there. That is because, if women figures within the denomination had been included among the candidates recommended as regular Board directors, there would not presently be three non-PCK Hapdong women directors on the Board.
It makes one wonder whether this event was not the result of the denomination's stubbornness. PCK Hapdong probably was not ignorant of the fact that gender ratio is considered in appointments to private school foundation boards. Ultimately it is the denomination's responsibility, but there is also an element of good fortune. A step forward has been taken, from "absolutely no women board directors" to "our denomination's women are all right." Ironically, through this event, a crack has been opened in "stubbornness."
A pastor from PCK Hapdong commented, "The controversy over the appointment of women board directors may open the way to ending gender discrimination within the denomination… I hope this problem will be resolved wisely."
Jeju Biblia Bible Botanical Garden: Blessings from the Bible and its plants
In Jeju Biblia Bible Botanical Garden, located 40 minutes by car from Jeju International Airport, there are more than 100 kinds of Biblical plants including palms, hyssop, olive trees, and carob trees, as well as over 1,300 kinds of medicinal plants.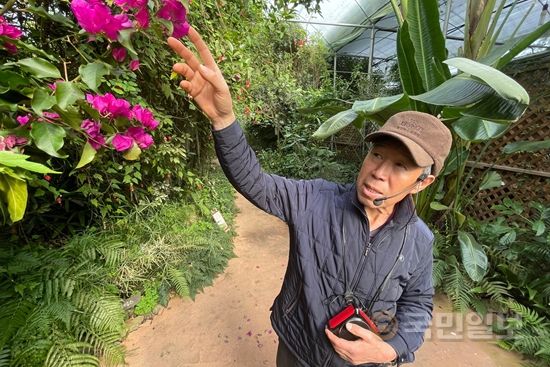 Rev. Lee Tae-yong (photo) explained, "Nine years ago, wondering why it was that our country had so many Catholic and Buddhist tourist sites, but no such sites for its 10 million Protestants, I bought some land and began cultivating plants whose names appear in the Bible."
At university, Rev. Lee majored in horticulture and landscaping, and from 1986 he worked at Yeomiji Botanic Garden in Jeju. In 1999 his oldest child, then a fifth grader in elementary school, preceded him to heaven due to a medical accident, and as a way to overcome his pain, Lee decided to create the Bible Botanical Garden. He went on pilgrimages to the Holy Land, collected plant species named in the Bible, and concentrated on cultivating saplings; and in the process he found strength to endure. He studied theology and was ordained as a minister.
Ultimately he resigned from his 21-year-long position at Yeomji Botanic Garden, and on August 1, 2010, he purchased a 13,000 ㎡ (about 4,000 pyeong) plot of land. Over the next three years, he worked to clear the land, erect the Bible figures, and create the landscape, and in October 2013, Biblia was officially opened.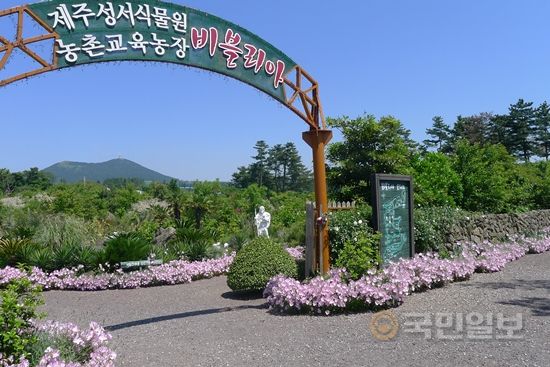 "Biblia has more than 100 of the 125 plant species mentioned in the Bible," Rev. Lee said. "Jeju has a cooler climate than Israel, and much more rain. Therefore, like children, my plants need my wholehearted devotion."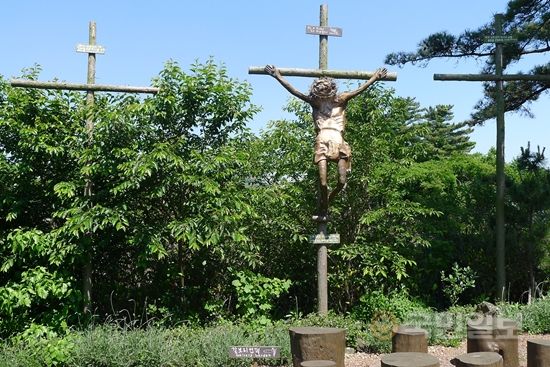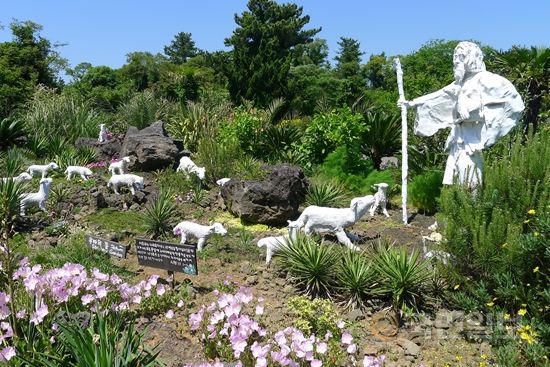 박여라 영문에디터 yap@kmib.co.kr
GoodNews paper ⓒ
국민일보(www.kmib.co.kr)
, 무단전재 및 수집, 재배포금지