April 5, 2021
Happy Easter!
Is the risen Jesus still our hope, as we celebrate our second Easter in the pandemic? During this season of Lent, we realize that we, as his followers, have a lot of work to do toward the fulfillment of Jesus' mission in this world. One way is to nurture the next generation of women pastors, as told in the first story of this issue. Our small daily practices to save Earth, as described in the second story, are also vital. May God continue to grant us wisdom and grace on the road ahead.
"The assistant pastors are like my daughters… I'll always support their ministries"
Incheon Baeksong Church (Rev. Lee Sun-hui) has sent nine students to the Graduate School of Theology at Seoul Theological University (STU; Hwang Deok-hyeong, president) in the first half of the 2021 school year. This is the greatest number of new students accepted from a single church in the graduate school's history.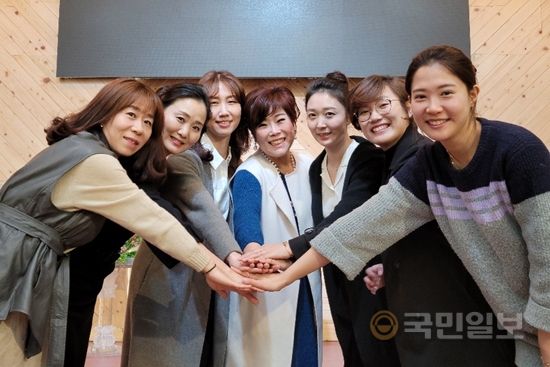 Rev. Lee Sun-hui has embarked on a Th.D. degree program, amidst her busy ministry. Four of the church's assistant ministers started doctoral programs; Rev. Won Mi-hyeon (missiology), Rev. Kim Mi-ri (homiletics), Rev. Bae Ji-hi (church history) and Evangelist Jo Ju-ok (missiology). Four other evangelists including Seo Ji-yeong and Seo Min-ju began master's programs. All nine are women ministers.
Besides them, 12 other church members and evangelists are currently enrolled in STU's Graduate School of Theology. Two more members, one an undergraduate theology major and the other a theology major in the lifelong education program, bring the total to 23 Baeksong Church people now studying at STU. Half of them receive full scholarships from the church.
On March 16, meeting with Kukmin Daily at the church office in Namdong-gu, Incheon, Rev. Lee said, "Last year many churches endured difficulties during the COVID-19 pandemic, but thanks to the grace of God we gave nearly 90 million won in scholarship support… It seems impossible, but God guided us in abundance."
Rev. Lee, who began her ministry as a gospel singer in 1996, was active in the healing song ministry, performing at a united assembly in Atlanta, USA, in 2000, and with FEBC (Far East Broadcasting Company) in 2001. She founded Baeksong Church in 2013, after completing her M.Div. (Master of Divinity) degree at the STU Graduate School of Theology.
Lee recalled, "In 2002 I had finished a gathering in Daegu, and was resting, when I heard God's voice three times in succession, sounding like thunder. The voice said, 'Raise up 700 disciples of Jesus like Gideon's 300 warriors, and lead the souls of the nations to the Lord, as the waters cover the sea.'"
That became the starting point of her scholarship support for the training of disciples. Through Rev. Lee's direct or indirect influence, more than 100 persons have studied at STU's theological grad school.
Many of Baesong Church's assistant pastors entered the faith in this church, experienced inner healing, and received the call to ministry.
"If the assistant pastors have trouble maintaining a livelihood, they can't do effective spiritual work," Rev. Lee said. "When my followers are doing well at saving souls, I want to give them all possible help." Describing her relationship with the assistant pastors as that of parent and child, she said, "Just as parents continue worrying about their children even after they're married, I want to stay responsible for my assistant pastors throughout their preparations for ministry."
Starting at Easter, practice 7 "green habits" over 7 weeks: "50 Days of Joy" campaign
The Christian environmental education center Sallim (Yu Mi-ho, director) is carrying out a "50 Days of Joy Campaign With Our Global Neighbors," starting on Easter Day and continuing till Pentecost (May 23). "50 Days of Joy" is a church season that has been celebrated since the earliest days of the church. Early church believers began the custom by holding a post Easter feast, and inviting their neighbors to share the joy of the Resurrection.
Anyone wanting to participate in "50 Days of Joy" may do so, by practicing one kind of environmental protection habit per week, during the seven-week campaign. In the first week, starting on Easter Day, the goal is to "share Easter eggs without packaging." Sallim is providing information on the method of transporting environmentally friendly eggs without plastic wrapping. It also suggests other environmentally friendly lifestyle practices, such as "prepare for spring outings without one-time-use goods," "feel the breathing of diverse lives in gardens and forests," and "set healthy tables with domestically grown food ingredients."
박여라 영문에디터 yap@kmib.co.kr
GoodNews paper ⓒ
국민일보(www.kmib.co.kr)
, 무단전재 및 수집, 재배포금지