May 4, 2021
Greetings from Seoul!
Beautiful May is here. In Korea we call May the month of family, and have designated days recognizing children, parents, adults, teachers, and laborers. Obviously there are worries that the related gatherings may multiply COVID-19 cases. Our trust in each other has been an important resource for successful prevention so far, and we remain both alert and hopeful. Together with our sisters and brothers around the world, we are praying for the people of India and other parts of the world who are suffering more seriously from the illness.
This issue reports on a discussion of the church's situation since the start of COVID-19. It is particularly significant in that the analysis is made by a pastor from one of the conservative denominations. We also share statistics revealing that most Korean Christians consider climate change to be an urgent matter.
"Aggressive mission based on wrong eschatology has mass-produced rude Christians, put church in crisis"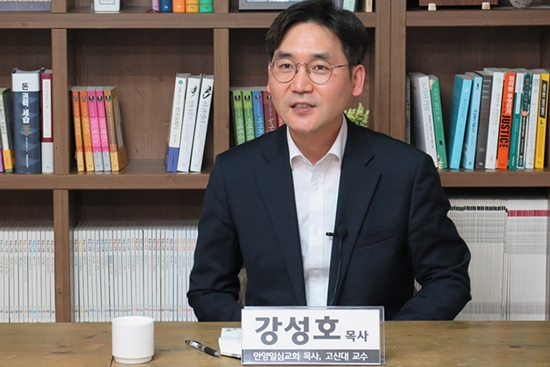 Anyang Ilsim Church's Associate Pastor Kang Seong-ho, who teaches Christian ethics at Korea Theological Seminary, was keynote speaker at an April 19 event titled "The Church's Naked Face Revealed by COVID-19," one of a sequence of discussion meetings held by the Christian Ethics Movement of Korea. He said in his lecture, "What has already been internalized by Korean Protestants is a narrative absolutizing a mission passion that is influenced by dispensationalist eschatology… I think that because of the absolutizing of the mission command, there are instances where the neighbors in our midst, as well as important Korean social problems, are being ignored."
Rev. Kang warned against the dispensationalist eschatology that is rampant in the Korean churches: It is a wrong eschatology in the way it interprets the Biblical text literally with regard to Jesus' Second Coming and the Apocalypse.
While recognizing the fact that such dispensationalist eschatology has contributed greatly to world mission and borne many fruits, Kang asserted that "nevertheless, the thinking in our generation that Jesus' Second Coming will be speeded up by the achievement of world mission, is a departure from right understanding of God's sovereignty." What this means is that although the Gospel being spread to the whole world is a clear sign that Jesus will come to us again, the time of that Second Coming cannot be specified.
"On one side, it appears natural to believe that because Jesus' second coming was close at hand, the carrying out of his mission command was absolutely more important than anything else in the world, yet the Lord's absolute command for 'mission' cannot justify Protestant Christians' rude and even life-threatening actions in the public sphere, where they live together with other members of Korean society," Kang said pointedly.
"Mission is an important area. However, it is not God's will that mission be inordinately emphasized to the point that other important social values are relativized and disregarded," he said. "The Korean churches should actively form Christian social ethics worthy of the Gospel." He further advised, "The church should stop treating mission as an absolute, based on wrong interpretation of eschatology, and become a 'training ground for character' that can faithfully emulate Jesus' love and character… In this way, Christians should be raised up as believers with virtue worthy of the people of God's kingdom."
Christians alert to climate crisis… 89% say "halt global warming before fixing economy"
Results of a survey on climate crisis awareness, done in July last year by the Christian Institute for the Study of Justice and Development (CISJD) and targeting 1,000 Protestant Christian churchgoers nationwide, show that when asked about the seriousness of global warming, 66.4% rated it "very serious," and 30.6% "somewhat serious." Combining the two, 97.0% agreed on the gravity of the situation. Just 1.6% said "it's not serious." The same survey had been conducted a year before, in July 2019 before the outbreak of COVID-19; at that time 41.1% of Protestant church members called global warming "very serious" and 53.1% thought it "on the serious side." In the COVID-19 era, the number of "very serious" responses has risen.
In the 2020 survey, when Protestant church members were asked their views on the origin of COVID-19, 74.5% responded, "It's a social disaster resulting from human destruction of the ecosystem." Only 17.7% replied, "It's a natural phenomenon occurring by chance like other diseases."
To the question of which to tackle first, economic growth or global warming, no less than 88.9% replied, "Even if economic growth is down, the first priority is to halt global warming." A mere 11.1% said, "For the sake of economic growth, it's all right to ignore global warming to a certain extent."
Though these numbers confirm Korean church members' wholehearted support for action dealing with the climate crisis, when it comes to concrete practice the church is still in the beginning stages. Prof. Shin Ik-sang of Sungkonghoe University's Open College of Liberal Arts and Sciences, who has continuously analyzed CISJD research results, said on the 21st, "There is high recognition of the climate crisis, but when 'my urgent needs' are calculated, it tends to be pushed to a lower status… Therefore, starting with church clergy and others in responsible posts, there needs to be study and change of habits; and sermons should emphasize actions on the climate crisis, which should be put into practice one by one, by church leaders and congregations together."
"The Korean church is extremely divided on other political issues, but people are transcending 'conservative and progressive' as they confront the climate crisis to save lives and plan for survival, and this big theme has the possibility of uniting the views of the church as a whole," Prof. Shin said. "I hope this will be the moment when everyone comes together, accepting the call to stewardship."
박여라 영문에디터 yap@kmib.co.kr
GoodNews paper ⓒ
국민일보(www.kmib.co.kr)
, 무단전재 및 수집, 재배포금지